Submitted by

chandra

on Tue, 2023-05-23 12:35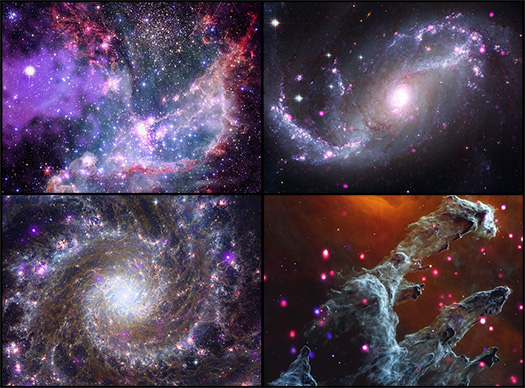 NGC 346, NGC 1672, M74 & M16
Credit: X-ray: Chandra: NASA/CXC/SAO, XMM: ESA/XMM-Newton; IR: JWST: NASA/ESA/CSA/STScI, Spitzer: NASA/JPL/CalTech; Optical: Hubble: NASA/ESA/STScI, ESO; Image Processing: L. Frattare, J. Major, N. Wolk, and K. Arcand
Four composite images deliver dazzling views from NASA's Chandra X-ray Observatory and James Webb Space Telescope of two galaxies, a nebula, and a star cluster. Each image combines Chandra's X-rays — a form of high-energy light — with infrared data from previously released Webb images, both of which are invisible to the unaided eye. Data from NASA's Hubble Space Telescope (optical light) and retired Spitzer Space Telescope (infrared), plus the European Space Agency's XMM-Newton (X-ray) and the European Southern Observatory's New Technology Telescope (optical) is also used. These cosmic wonders and details are made available by mapping the data to colors that humans can perceive.
Submitted by

chandra

on Tue, 2023-03-28 10:18

NGC 253
Credit: X-ray: NASA/CXC/The Ohio State Univ/S. Lopez et al.; H-alpha and Optical: NSF/NOIRLab/AURA/KPNO/CTIO; Infrared: NASA/JPL-Caltech/Spitzer/D. Dale et al; Full Field Optical: ESO/La Silla Observatory.
On Earth, wind can transport particles of dust and debris across the planet, with sand from the Sahara ending up in the Caribbean or volcanic ash from Iceland being deposited in Greenland. Wind can also have a big impact on the ecology and environment of a galaxy, just like on Earth, but on much larger and more dramatic scales.
A new study using NASA's Chandra X-ray Observatory shows the effects of powerful winds launched from the center of a nearby galaxy, NGC 253, located 11.4 million light-years from Earth. This galactic wind is composed of gas with temperatures of millions of degrees that glows in X-rays. An amount of hot gas equivalent to about two million Earth masses blows away from the galaxy's center every year.
NGC 253 is a spiral galaxy, making it similar to our Milky Way. However, stars are forming in NGC 253 about two to three times more quickly than in our home galaxy. Some of these young stars are massive and generate a wind by ferociously blowing gas from their surfaces. Even more powerful winds are unleashed when, later in their relatively short lives, these stars explode as supernovae, and hurl waves of material out into space.
Pages