Submitted by

chandra

on Wed, 2023-04-05 10:58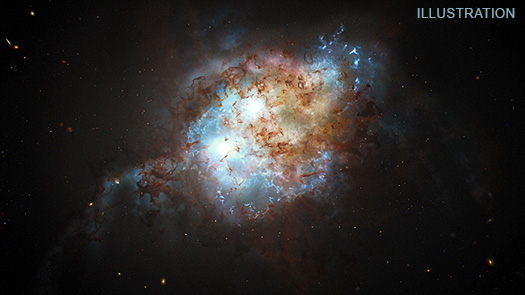 Artist's Illustration of Dual Quasar J0749+2255
Artwork Credit: NASA, ESA, Joseph Olmsted (STScI) Science Credit: NASA, ESA, Yu-Ching Chen (UIUC), Hsiang-Chih Hwang (IAS), Nadia Zakamska (JHU), Yue Shen (UIUC)
Quasars are among the universe's brightest fireworks. Scattered all across the sky, they blaze with the opulence of over 100 billion stars. And, like a brilliant July 4th aerial flare, they are dazzling for a relatively brief time — on cosmic timescales. That's because they're powered by voracious supermassive black holes gobbling up a lot of gas and dust that gets heated to high temperatures. But the quasar food buffet lasts only so long.
This fleeting characteristic of quasars helped astronomers find two quasars on a collision course with each other. They are embedded inside a pair of galaxies that smashed into each other 10 billion years ago. It's rare to find such a dynamic duo in the far universe. The detection yields clues as to how unsettled the cosmos was long ago, when galaxies more frequently collided and black holes were engorged with flotsam and jetsam from the close encounters.
Submitted by

chandra

on Fri, 2023-02-17 14:49
We are pleased to welcome Marko Mićić as a guest blogger. Marko led the study that is the subject of our latest press release [link to PR]. He graduated from the University of Belgrade, Serbia, with a degree in Astronomy and Astrophysics, in 2018. The same year he started a Ph.D. at the University of Alabama, and has been working under Dr. Jimmy Irwin's supervision since then. His research interests include evolution of low-mass galaxies, AGN content of low-mass galaxies, intermediate-mass black holes and gravitational lenses.
Galaxies are made up of billions of stars, interstellar gas and dust, and large amounts of dark matter. Every (or almost every) galaxy is expected to host a supermassive black hole in its center. Galaxies and their central black holes grow and evolve together predominantly through mergers; smaller objects merge to create larger ones over time. However, the earliest stages of galaxy evolution involving the mergers of the first galaxies are poorly understood. It is unclear how the first mergers affected the morphology of ancient galaxies and their star formation. We also do not know how massive the first black holes were that inhabited the first galaxies, nor how the first mergers influenced their ability to accrete – pull in – material.
It is challenging to answer these important questions because the first mergers are too distant and faint to be directly observed. One way to overcome this issue is to look for local analogs. In other words, we need to find pairs of small, dwarf galaxies that have had very quiet lives, with almost no mergers, that have only recently met and started interacting. Such galaxies have experienced little to no evolution so they are analogs of distant, ancient galaxies, and observations of their mergers would represent the local case study that illustrates the hierarchical growth of structures in the early Universe. Their central black holes are also expected not to have grown much and preserve information about primordial seeds, potentially holding the key to resolving the outstanding problem of the origin of supermassive black holes.
Pages