Submitted by

chandra

on Thu, 2023-11-30 09:56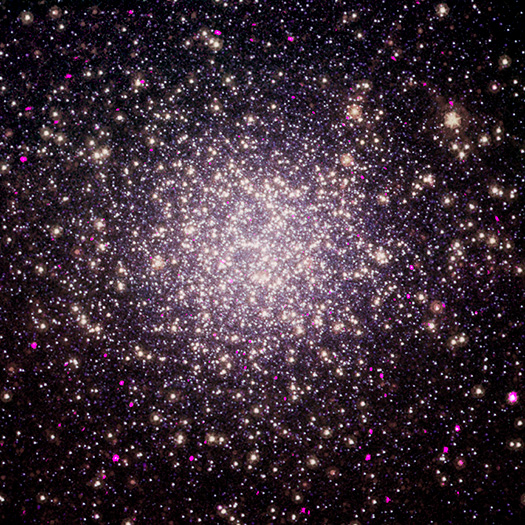 Omega Centauri
Credit: X-ray: NASA/CXC/San Francisco State Univ./A. Cool et al.; Optical: NASA/ESA/STScI; IR: NASA/JPL/Caltech; Image Processing: NASA/CXC/SAO/N. Wolk
A group of dead stars known as "spider pulsars" are obliterating companion stars within their reach. Data from NASA's Chandra X-ray Observatory of the globular cluster Omega Centauri is helping astronomers understand how these spider pulsars prey on their stellar companions.
A pulsar is the spinning dense core that remains after a massive star collapses into itself to form a neutron star. Rapidly rotating neutron stars can produce beams of radiation. Like a rotating lighthouse beam, the radiation can be observed as a powerful, pulsing source of radiation, or pulsar. Some pulsars spin around dozens to hundreds of times per second, and these are known as millisecond pulsars.
Submitted by

chandra

on Mon, 2023-09-25 13:38

Credit: X-ray: NASA/SAO/GSFC/M. Corcoran et al.;
Image Processing: L. Frattare, J. Major, N. Wolk (SAO/CXC)
A new movie made from over two decades of data from NASA's Chandra X-ray Observatory shows a famous star system changing with time, as described in our latest press release. Eta Carinae contains two massive stars (one is about 90 times the mass of the Sun and the other is believed to be about 30 times the Sun's mass).
In the middle of the 19th century, skywatchers observed as Eta Carinae experienced a huge explosion that was dubbed the "Great Eruption." During this event, Eta Carinae ejected between 10 and 45 times the mass of the Sun. This material became a dense pair of spherical clouds of gas, now called the Homunculus nebula, on opposite sides of the two stars. The Homunculus is clearly seen in a composite image of the Chandra data with optical light from the Hubble Space Telescope (blue, purple, and white).
A new time-lapse sequence contains frames of Eta Carinae taken with Chandra from 1999, 2003, 2009, 2014, and 2020. Astronomers used the Chandra observations along with data from ESA's XMM-Newton to watch as the stellar eruption from about 180 years ago continues to expand into space at speeds up to 4.5 million miles per hour. The two massive stars produce the blue, relatively high energy X-ray source in the center of the ring. They are too close to each other to be seen individually.
Submitted by

chandra

on Tue, 2023-05-23 12:35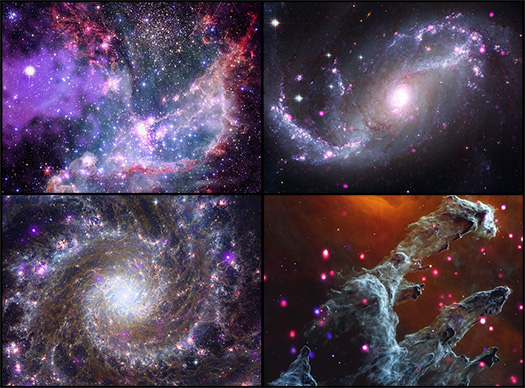 NGC 346, NGC 1672, M74 & M16
Credit: X-ray: Chandra: NASA/CXC/SAO, XMM: ESA/XMM-Newton; IR: JWST: NASA/ESA/CSA/STScI, Spitzer: NASA/JPL/CalTech; Optical: Hubble: NASA/ESA/STScI, ESO; Image Processing: L. Frattare, J. Major, N. Wolk, and K. Arcand
Four composite images deliver dazzling views from NASA's Chandra X-ray Observatory and James Webb Space Telescope of two galaxies, a nebula, and a star cluster. Each image combines Chandra's X-rays — a form of high-energy light — with infrared data from previously released Webb images, both of which are invisible to the unaided eye. Data from NASA's Hubble Space Telescope (optical light) and retired Spitzer Space Telescope (infrared), plus the European Space Agency's XMM-Newton (X-ray) and the European Southern Observatory's New Technology Telescope (optical) is also used. These cosmic wonders and details are made available by mapping the data to colors that humans can perceive.
Submitted by

chandra

on Fri, 2023-03-10 13:52
R Aquarii, All Wavelengths
Credit: X-ray: NASA/CXC/SAO/R. Montez et al.; Optical: Data: NASA/ESA/STScI, Enhanced processing by Judy Schmidt (CC BY-NC-SA). X-ray/Optical composite processing by CXC/N. Wolk & K.Arcand; Sonification: NASA/CXC/SAO/K.Arcand, SYSTEM Sounds (M. Russo, A. Santaguida)
The system called R Aquarii unfolds dramatically through the eyes of NASA's Chandra X-ray Observatory (purple) and Hubble Space Telescope (red and blue). The spectacular structures outlined in the Hubble data are old notes, or in other words, evidence from outbursts generated by a pair of stars buried at the center of the image. X-rays from Chandra reveal how a jet from one of these stars — a cool stellar ember known as a white dwarf — is banging into the material surrounding it. This high-powered flow creates shock waves, similar to sonic booms from planes that move faster than the speed of sound. The other player with the white dwarf in this interstellar duet is a red giant star. As they orbit each other, the white dwarf pulls material from the red giant onto its surface. Over time, enough of this material accumulates and triggers an explosion. Astronomers have seen such outbursts over recent decades and this dynamic chorus will likely go on for millennia to come.
Pages
Disclaimer:
This service is provided as a free forum for registered users. Users' comments do not reflect the views of the Chandra X-ray Center and the Harvard-Smithsonian Center for Astrophysics.
Please note this is a moderated blog. No pornography, spam, profanity or discriminatory remarks are allowed. No personal attacks are allowed. Users should stay on topic to keep it relevant for the readers.
Read the privacy statement