Submitted by

chandra

on Wed, 2015-02-25 09:34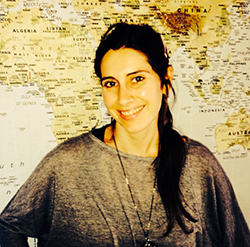 Mar Mezcua
We are pleased to welcome Mar Mezcua as a guest blogger today. She led the study that is the subject of our latest press release, about an intermediate mass black hole. Mar is from Balaguer (Lleida, Spain) and studied Physics in the University Autonomous of Barcelona and in the University of La Laguna, where she also specialized in Astrophysics. She completed her PhD at the Max-Planck-Institut fuer Radioastronomie (Bonn, Germany) in 2011 and then moved to the Instituto de Astrofisica de Canarias (Canary Islands, Spain) as a postdoctoral researcher. She is currently a postdoctoral researcher at the Harvard-Smithsonian Center for Astrophysics.
I found my calling when I was 13 years old and serendipitously watched a documentary on TV about galaxies and supermassive black holes. I wanted to become an astrophysicist and study these exciting objects!
Supermassive black holes reside at the center of galaxies and are more than a million times more massive than the Sun. As their name implies, they are black and thus cannot be observed directly. Hence, to detect black holes we have to observe the matter that surrounds and feeds them, this is, the material that the black hole "accretes." In supermassive black holes, this accreting material heats up high enough to emit X-rays so that we can detect it with X-ray satellites like NASA's Chandra X-ray Observatory. Some supermassive black holes also eject outflows of plasma or jets, which emit mainly at radio wavelengths.