Eta Carinae
See It For Yourself:
(Southern Hemisphere Constellation)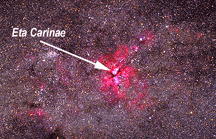 (click to enlarge)


The emission nebula which contains Eta Carinae is a fabulous object to look for in the night sky through a telescope. It is quite easy to find by star hopping as well. The southern end of the constellation makes a clockwise hook. The star on the end of that hook is the famous Eta Carinae, once the third brightest star in the sky during its explosion over a century ago. The huge nebula is just to the east of the star.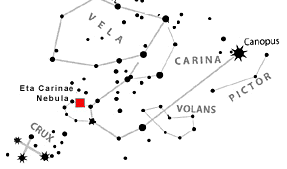 This nebula is about 300 light years across, over twenty times larger than the Great Nebula in Orion. In a backyard telescope, this nebula will appear greenish grey. The red color in most photographs is due to the lengthy exposure time of the image which brings out the fuschia color that hydrogen gives off when it is ionized. Remember, the R.A. and Dec of this object are: Right Ascension 10h45m6s, Declination -59°41', if you prefer to use setting circles.
Return to Eta Carinae