From Art to Astrophysics – and Back Again
Submitted by

chandra

on Thu, 2017-03-02 12:49
Melissa Weiss Walter (Photo: Brin Deuk Morris)
We are thrilled to welcome Melissa Weiss Walter as a guest blogger. As Mel describes below, she served as the graphic designer, illustrator and social media developer for Chandra's publicity and outreach efforts for many years. Recently, she has scaled back her Chandra time to focus on her personal artistic endeavors. Thankfully, she remains part of the Chandra family and continues to contribute to Chandra releases.
I have been working with the Chandra team in various capacities for close to two decades. I began creating illustrations of black holes after graduating from the University of Rhode Island. Soon after Chandra launched, I was brought on board to continue as their science illustrator and also as their graphic designer. When MySpace took off like a rocket and we realized that social media was here to stay, I also took on the role as a social media administrator.
In 2015, after working with the team full-time for fourteen years, I made the decision to take a step back. I was able to continue just with my duties in science illustration so that I could pursue a career in fine art. Though I may have discontinued my time with Chandra on a full-time basis, I took with me the inspiration of many years looking at the wonders of our Universe through Chandra's eyes.
Before making the change, I had always loved the work I did with the Chandra team. However, I was so busy creating materials that I didn't have a lot of time to reflect on the content I was using. I knew what we did was important but I never realized how influenced I was becoming by the wonders we communicated with the public on a daily basis.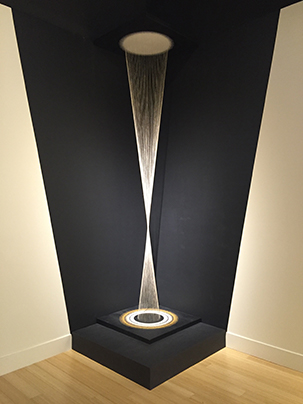 "Black Hole with Accretion Disk and Jet" currently on display at the San Diego International Airport
My art is characterized often as abstract, geometric shapes in balance. When I began gravitating towards this direction, I had no intention to represent anything specific. However, over time, as images emerged from the page, I began making direct connections to astronomical objects. As a compacted, circular form developed, I saw a neutron star. Or as two structures began dancing around each other, I saw black holes creating gravitational waves. As I came to the realization that my work with Chandra was informing my fine art, I delved deeper into understanding these grand objects. I even started studying science theory and concepts so I could create new abstract, visual works to represent them.
In May 2016, I had a solo art exhibition where I created a sculptural installation and geometric illustrations of which were my abstract interpretations of the astronomical objects that had inspired me all these years. Those pieces have recently moved to the San Diego International Airport for their group exhibition, "Intergalactic Dreaming" for 2017. Since creating that work, I have continued to use astronomy and astrophysical theories as inspiration. Currently, I am the artist-in-residence at Bread & Salt in San Diego, California. For my time in the residency, I'm focusing on visualizing dark matter and the concept of gravitational lensing (one way which we can "see" dark matter). I am also very proud to have a piece, which is an abstracted view of a spiral galaxy, in the upcoming "Artists at Work: The Smithsonian Community Committee Art Exhibition" at the S. Dillon Ripley Center, a Smithsonian gallery in Washington D.C. which opens February 9, 2017 and will remain on view for the year.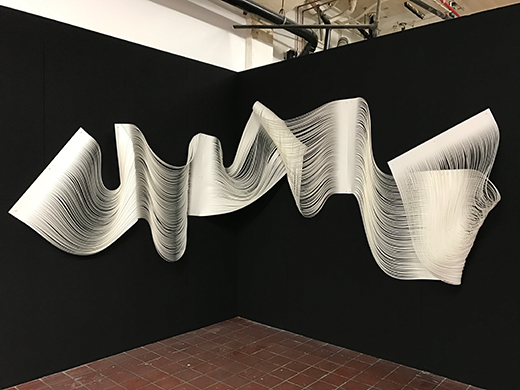 "Gravitational Lensing" currently on display at Bread & Salt in San Diego, CA
In the end, I have come to realize that art and science do not need to feel as though they are isolated from one another. Each can find absolute inspiration in the other. I hope that my art inspires other creative people to look to the stars and those in the sciences to see their work in a new way. And I hope it does the same for you as well.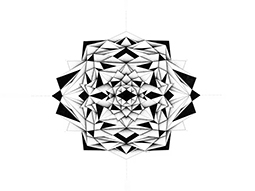 "Neutron Star" currently
on display at the San Diego
International Airport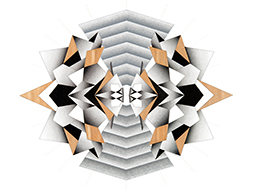 "Gravitational Waves" currently
on display at the San Diego
International Airport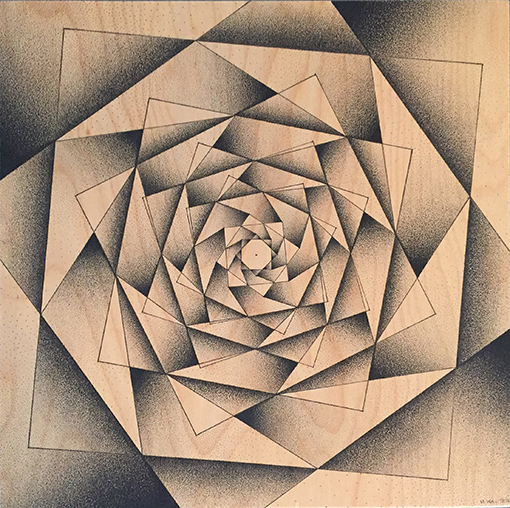 "Spiral Galaxy" currently on display at the S. Dillon Ripley Center in Washington, D.C.
-Melissa Weiss Walter
http://www.melissawalterart.com
Disclaimer:
This service is provided as a free forum for registered users. Users' comments do not reflect the views of the Chandra X-ray Center and the Harvard-Smithsonian Center for Astrophysics.
Please note this is a moderated blog. No pornography, spam, profanity or discriminatory remarks are allowed. No personal attacks are allowed. Users should stay on topic to keep it relevant for the readers.
Read the privacy statement