From Super to Ultra: Just How Big Can Black Holes Get?
Submitted by

chandra

on Tue, 2012-12-18 11:50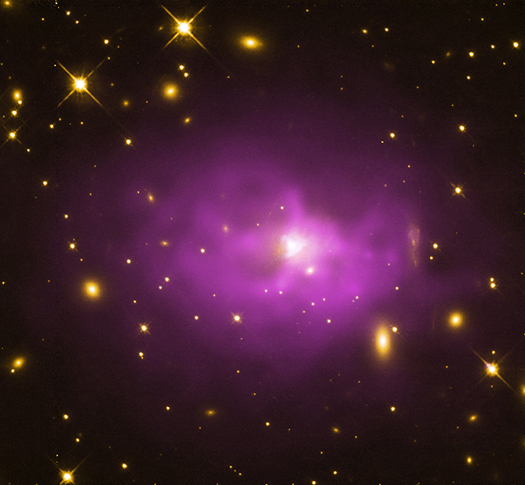 The black hole at the center of this galaxy is part of a survey of 18 of the biggest black holes in the universe. This large elliptical galaxy is in the center of the galaxy cluster PKS 0745-19, which is located about 1.3 billion light years from Earth. X-ray data from NASA's Chandra X-ray Observatory are shown in purple and optical data from the Hubble Space Telescope are in yellow.
The researchers found that these black holes may be about ten times more massive than previously thought, with at least ten of them weighing between 10 and 40 billion times the mass of the sun.
All of the potential "ultramassive" black holes found in this study lie in galaxies at the centers of galaxy clusters containing huge amounts of hot gas. This hot gas produces the diffuse X-ray emission seen in the image. Outbursts powered by the central black holes create cavities in the gas -- mouse-over for their location -- preventing it from cooling and forming enormous numbers of stars. To generate the outbursts, the black holes must swallow large amounts of mass. Because the largest black holes can swallow the most mass and power the biggest outbursts, ultramassive black holes had already been predicted to exist to explain some of the most powerful outbursts seen.
More at http://chandra.harvard.edu/photo/2012/pks0745/
-Megan Watzke, CXC
Disclaimer:
This service is provided as a free forum for registered users. Users' comments do not reflect the views of the Chandra X-ray Center and the Harvard-Smithsonian Center for Astrophysics.
Please note this is a moderated blog. No pornography, spam, profanity or discriminatory remarks are allowed. No personal attacks are allowed. Users should stay on topic to keep it relevant for the readers.
Read the privacy statement