A Galactic Spectacle
Submitted by

chandra

on Thu, 2010-08-05 09:28
A beautiful new image of two colliding galaxies has been released by NASA's Great Observatories. The Antennae galaxies, located about 62 million light years from Earth, are shown in this composite image from the Chandra X-ray Observatory (blue), the Hubble Space Telescope (gold and brown), and the Spitzer Space Telescope (red). The Antennae galaxies take their name from the long antenna-like "arms," seen in wide-angle views of the system. These features were produced by tidal forces generated in the collision.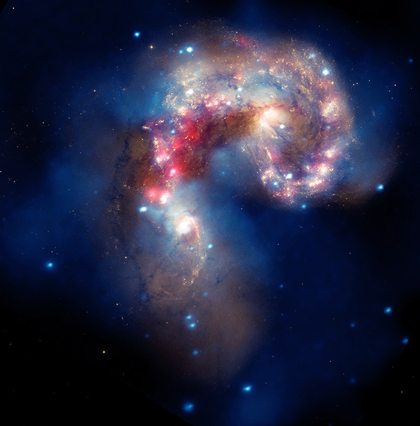 The collision, which began more than 100 million years ago and is still occurring, has triggered the formation of millions of stars in clouds of dusts and gas in the galaxies. The most massive of these young stars have already sped through their evolution in a few million years and exploded as supernovas.
http://chandra.harvard.edu/photo/2010/antennae/
-Megan Watzke, CXC
Disclaimer:
This service is provided as a free forum for registered users. Users' comments do not reflect the views of the Chandra X-ray Center and the Harvard-Smithsonian Center for Astrophysics.
Please note this is a moderated blog. No pornography, spam, profanity or discriminatory remarks are allowed. No personal attacks are allowed. Users should stay on topic to keep it relevant for the readers.
Read the privacy statement