Three Important Letters and The Nobel Prize
Submitted by

chandra

on Wed, 2009-10-07 10:10
Yesterday, the Nobel Prize for Physics was announced by the Royal Swedish Academy of Sciences. As they often do, the Academy split the prize, with one half being shared by two scientists - William S. Boyle and George E. Smith - for their work on CCD sensors.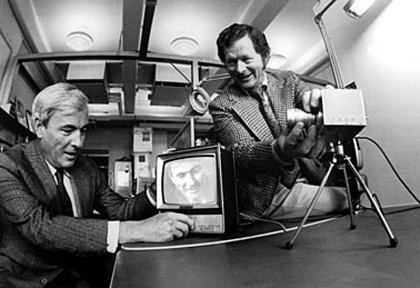 William S. Boyle (left) and George E. Smith in a shot taken in 1974.
© Alcatel-Lucent/Bell Labs
More specifically, they got the Nobel for inventing "the first successful imaging technology using a digital sensor, a CCD (Charge-Coupled Device). The CCD has provided new possibilities to visualize the previously unseen. It has given us crystal clear images of distant places in our universe as well as the depths of our oceans."
That last sentence couldn't ring more true as far as we're concerned. After all, our very own Chandra X-ray Observatory uses a CCD in its ACIS instrument. As you can tell from the link, "ACIS" stands for the Advanced CCD Imaging Spectrometer. The CCD technology pioneered by Boyle and Smith has been crucial in our ability to explore the high-energy Universe. They probably didn't have an inkling at the time, but their basic research decades ago has allowed all of us to better understand the exciting cosmos we live in. Congratulations to them both.
-Megan Watzke, CXC
Disclaimer:
This service is provided as a free forum for registered users. Users' comments do not reflect the views of the Chandra X-ray Center and the Harvard-Smithsonian Center for Astrophysics.
Please note this is a moderated blog. No pornography, spam, profanity or discriminatory remarks are allowed. No personal attacks are allowed. Users should stay on topic to keep it relevant for the readers.
Read the privacy statement