Submitted by

chandra

on Fri, 2017-10-13 13:39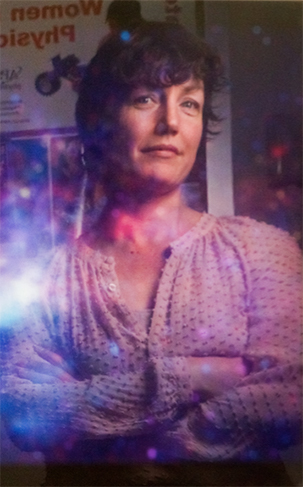 Chandra Scientist Daryl Haggard
Daryl Haggard is an Assistant Professor of Physics at McGill University. She is an observational astronomer and received her PhD at the University of Washington (Seattle, WA). She and her group study Sagittarius A*, the supermassive black hole at the heart of our Milky Way Galaxy. Haggard's team uses radio, submillimeter, near infrared, and X-ray telescopes to probe Sgr A*'s exotic environment, where strong gravity plays a key role. Her team also studies the interplay between distant growing supermassive black holes, or active galactic nuclei, and their host galaxies. And when opportunity knocks, she and her group search for X-ray flashes emitted from neutron stars and black holes when they collide. These collisions send ripples through space-time, gravitational waves, now being detected by LIGO and Virgo.
What are gravitational waves? What are neutron stars?
Gravitational waves are "jiggles" in the fabric of space-time. They are like sound waves traveling through the air around me while I talk, but gravitational waves race through the Universe at the speed of light and carry LOTS of energy away from their source.
Meanwhile, neutron stars are basically big balls of neutrons. They are born during supernova explosions when the gravity on the inside of a star is so intense it forces the electrons into the protons, making neutrons. Actually, the fusion that happens during these supernovas is how atoms like oxygen, iron, all the stuff we need for life, gets built. Neutron stars weigh two or three times the mass of our Sun, but are only the size of a modest city, like Boston or Montreal. They are incredibly dense objects. For example, if you took the Earth's whole human population and squished it into an object the size of a sugar cube, we'd all become a neutron star.