Submitted by

chandra

on Tue, 2018-10-30 13:06
The Carnival of Space is a round up of astronomy and space-related blogs that started back in 2007. Every week, a different webmaster or blogger hosts the carnival, showcasing articles written on the topic of space. This week, it's our turn to host the Carnival here on the Chandra blog. Enjoy!
There's a lot of news happening out there on the ground so let's make sure we keep an eye on the latest from space in this week's Carnival of Space.
At Universe Today, there were a slew of good posts to consider: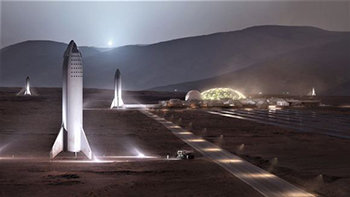 Artist's impression of SpaceX's proposed Mars Base Alpha. Credit: SpaceX
Author Matt Williams discusses how his experience as a science journalist helped become a better science fiction writer. https://www.universetoday.com/140285/how-science-journalism-helped-me-be...
Tammy Plotner takes us on a tour of the globular cluster NGC 6681, a.k.a. Messier 70, in their series of Messier Monday. https://www.universetoday.com/37776/messier-70-1/
A report on the recent acquisition of a Danish freighter by Blue Origins updates us on the latest from the race to affordability by private space companies: https://www.universetoday.com/140375/blue-origin-will-be-landing-its-roc...