Submitted by

chandra

on Wed, 2017-11-29 11:20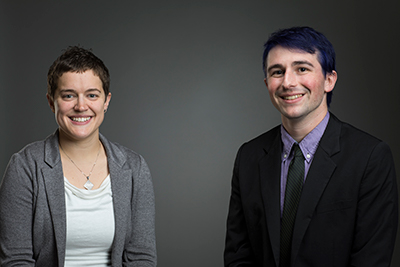 Professor Emily Levesque & Trevor Dorn-Wallenstein
Trevor is a third-year Astronomy graduate student at the University of Washington in Seattle, working with Professor Emily Levesque. He led the paper that is the subject of our latest press release on the discovery of a giant black hole pair that is photobombing the Andromeda Galaxy. He is interested in massive stars and young stellar populations, as well as playing the drums and baking cookies.
It's funny how a simple case of mistaken identity can lead to the discovery of exotic objects hiding as unassuming dots in the sky.
My advisor, Professor Emily Levesque, and I, both astronomers at the University of Washington, were interested in finding star systems called red supergiant X-ray binaries. These systems consist of a compact object, like a neutron star or black hole, and a red supergiant — massive stars like Betelgeuse that are 10-20 times the mass of our sun but much less hot. Mass from the supergiant is lost to the compact object, where it should heat up and glow brightly in X-rays. While no such systems have been conclusively identified, red supergiant X-ray binaries could be used to better understand the evolution of the most extreme star systems.