posted by
chandra
on
Tue, 2017-04-04 15:01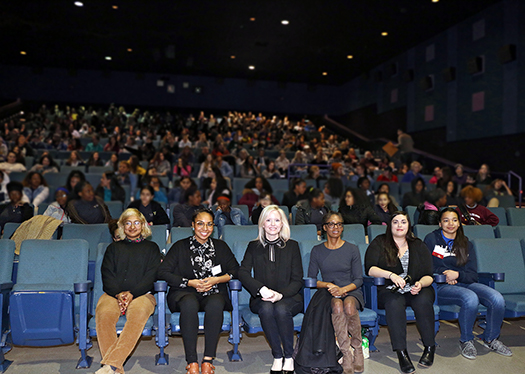 Photo Credit: Tracy Karin Prell
Over 400 female middle and high school students, educators, and technology professionals attended a viewing of Hidden Figures and panel discussion at the Warwick Showcase Cinemas on Friday, March 24, 2017. The event was presented by Tech Collective, Rhode Island's industry association for technology, in partnership with NASA's Chandray X-ray Observatory and Providence P-TECH industry partners. The event included a private screening of the 2017 Oscar winning movie followed by a panel discussion featuring a diverse group of female STEAM professionals in Rhode Island.
Featured panelists included Zalyndria Crosby, Web Application Developer, CVS & Co-Chapter Lead, Girl Develop IT; Dr. Gelonia Dent, Director of the Science Center, Brown University; Nupur Shridhar, Director of Design-Innovate-Build Lab, the Wheeler School; and Kimberly Kowal Arcand, Visualization Lead, NASA's Chandray X-ray Observatory/Smithsonian Astrophysical Observatory.
Panel moderation was provided by Classical High School student, Cheyenne Figueroa, a mentee of Arcand's. The panel answered a variety of questions offering attendees a look into the barriers for women, specifically women of color, entering or currently in the technology field.
Read the full release from Tech Collective here:
http://campaign.r20.constantcontact.com/render?m=1102024597511&ca=8f3a1886-28eb-48aa-b0cd-41c75f6cc38d